---
This is perfect for all aromatherapy lovers, let your incense release its powers in style.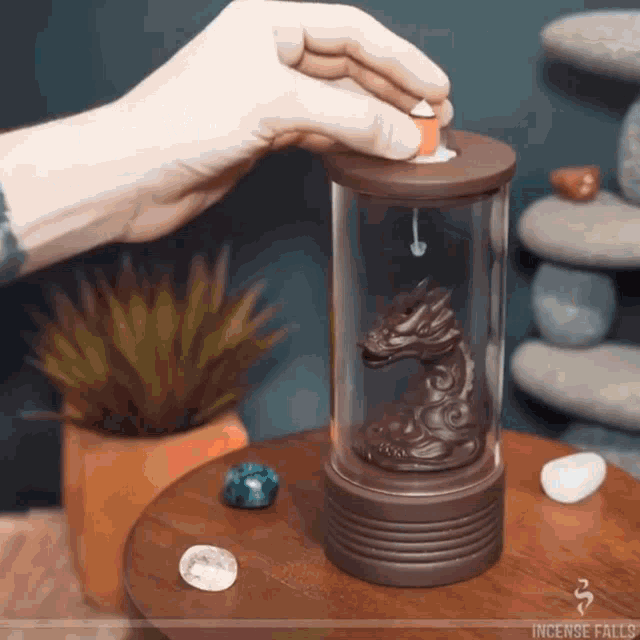 This Incense Dragon Burner Is Hand Crafted.
The back-flow incense burner is simply mesmerising to watch. The smoke comes out of the dragon's mouth and flows downward. Place the backflow cones on the top, light and then watch as the smokes flows down and fills up at the bottom.

Ceramic incense burners are ideal for burning your favourite incenses while providing a decorative accent to any space.
When the incense cone is lit in the burner, trails of smoke mimics a waterfall/cloud mist on top of a mountain at the base of the figurine.
This comes with 20 cones, available in Lavender, Lemon, Lily, Jasmine or Sandalwood. These burn for an average of 8-10 minutes each.  
 Benefits Of The Powerful Dragon Incense Burner

Peaceful sleep- without interruption Promotes the creation of melatonin for natural restful sleep.
 Calms the nerves- at the end of the day The fine smell of the forest diffused in your house will make you forget your whole day.

Treat yourself to a pleasant and soothing moment Spread the sweet scent of incense through the waterfalls of the dragon Tatsu.

Creativity and imagination- Smell has a strong influence on your brain, so scent bulbs will process your emotions and stimulate your focus.
Up to 1 hour of tranquility by incense- The Tastu waterfall is both a Zen decoration accessory and an incense diffuser for your home.
How it works ?
1. Assemble the base with the cover
2. Light the incense cone until the smoke appears from below.
3. Place the incense cone at the top of the diffuser